Menus
Meals, foods and beverages sold or served at schools meet state and federal requirements based on the USDA Dietary Guidelines. All meals, foods and beverages are prepared and served by qualified child nutrition professionals. We provide students with access to a variety of affordable and appealing foods that meet the health and nutrition needs of students.
The Chelmsford Public Schools proudly serve lunch (and breakfast at Chelmsford High School and Harrington Elementary only) as part of the National School Lunch Program. Your children may qualify for either free or reduced lunch. The eligibility criteria and instructions for applying may be found at http://www.fns.usda.gov/sites/default/files/2015-04788.pdf . Parents may apply at www.lunchapp.com or by sending a printed application found in the lower right side of this page at anytime during the year. Each year parents must submit a new application and applications from the prior year will expire 30 days after the start of school. In order to meet the criteria for a meal that qualifies as free or reduced the student must select three components at lunch including a fruit or vegetable.

Our meals meet and often exceed USDA guidelines for the National School Lunch Program.
We follow strict caloric and nutrient guidelines per grade.
Every School Lunch is served with a variety of FREE Fruit and Veggie sides.
Each month we feature fresh Harvest of the Month selections.
A healthy body equals a healthy mind!
Meal Prices
Lunch:
Elementary: $2.65
Middle Schools: $3.10
High School: $3.10
Breakfast (High School and Harrington Elementary only): $1.50
| | |
| --- | --- |
| View Chelmsford Ingredient Nutritional Information Here | |
Lunches include at least five meal components and a variety of fruits & vegetables.
Menu subject to change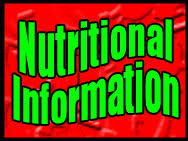 Click arrows to scroll through months

High School

Lunch Menu

Middle School

Lunch Menu

Elementary School

Nutrition Info

9-4-18 Menu Item Baked Beans.pdf
9-4-18 Menu Item Beef Burger.pdf
Additions to Middle and Elem. Schools.pdf
Harrington Breakfast-Cereal Bar Breakfast.pdf
Harrington Breakfast French Toast Bites.pdf
Harrington Breakfast Nutritional 9-14-18.pdf
Harrington Breakfast Nutritional 9-17-18.pdf
Ice Cream Cups and Orange Italian Ice.pdf
Menu Options Elementary 9-14-18.pdf
Menu for September 14, 2018.pdf
Menu for September 17 2018.pdf
Menu for September 19, 2018.pdf
Ranch Dressing, CHS.pdf
Vegetable Nutritionals.pdf